Hours
The Foundation welcomes the public between 2:00 and 6:00 p.m., Tuesday to Saturday.
Free Entrance
The Foundation will be closed to the public the first three weeks of August.
Contact information
Saint-John Perse Foundation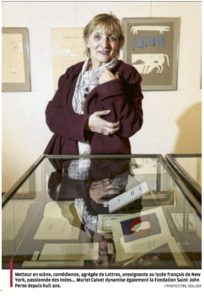 Director
Muriel CALVET

Phone : 04 42 91 98 86
Email : direction.fondation.SJP@orange.fr
Library and exhibits

Romain MARI

Phone : 04 42 91 98 87
Email : documentation-fondation-SJP@orange.fr
Administration and finances
Jade GRAVOT
Phone : 04 92 91 98 85
Email : fondationsaintjohnperse@orange.fr
Maintenance of the Website
Claude THIEBAUT
in collaboration with Romain MARI and, for the English translations, with Carol RIGOLOT
Email : webmestre-site-fsjp@orange.fr
Location
The Saint-John Perse Foundation is conveniently located in the Cité du Livre, near the center of Aix-en-Provence and the railroad station, in the same building as the Méjanes library. There is a cafeteria on the premises, and parking is available across the street. The Cité du Livre is handicapped accessible.