Entretien avec Claire Paulhan et Alain Paire :
le métier d'éditrice
Friday 20 th 2017 at 18:30,,fr,Poetry Award Ceremony Gracia Lucienne Vincent,,fr,The price of the site,,fr,It seeks to define the work and personality of the poet,,fr,to the settlement to compete,,fr
Salle Armand Lunel, Méjanes Library
Entretien avec Claire Paulhan et Alain Paire : le métier d'éditrice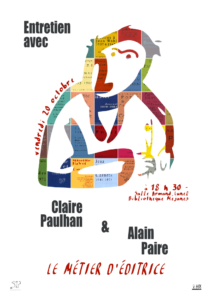 Après avoir travaillé comme libraire, directrice de collections (Ramsay, Seghers), critique littéraire (Le Magazine littéraire, The World), Claire Paulhan a fondé en 1996 la maison d'éditions qui porte son nom : elle s'attache depuis lors à publier très soigneusement des textes autobiographiques inédits (journaux intimes, memoirs, correspondances littéraires).
Parmi les écrivains qui forment son catalogue, l'on trouve des auteurs proches de La NRF, que son grand-père Jean Paulhan, a dirigée pendant plus de 25 years: Jean Grenier, Jean Follain, Valery Larbaud, Henri Thomas, Jean-Richard Bloch, Jacques Lemarchand, Pierre Jean Jouve, Jacques Rivière, Paul Eluard… Mais aussi des écrivains qu'elle a contribué à faire sortir de l'oubli, comme Georges Hyvernaud, Ferdinand Bac, Jehan-Rictus… Enfin, dans le registre des journaux de femmes, elle a découvert Catherine Pozzi, Mireille Havet, Hélène Hoppenot,,en,Presentation by Marie France Mousli,,fr,details to follow,,fr,Hélène Hoppenot accompanied her husband,,fr,the diplomat Henri Hoppenot,,fr,in its various positions,,fr,self-taught photographer,,fr,she reported her trips abroad rare images of a bygone everyday life,,fr,including China where the couple stayed after Alexis Leger,,fr,their friend,,fr,Bridge at the Summer Palace,,fr,Presentation of the previous exhibition,,fr,« Hélène Hoppenot,,en,The World of Yesterday,,fr,Popular pavilion,,fr,Mar-May 29,,fr,Countless references to Alexis Leger in,,fr,d'Hélène Hoppenot,,en,third volume to appear in,,fr,Giens,,fr,photo Hélène Hoppenot,,en,Hélène HoppenotPhotographies,,en.
From 1993, elle est chargée de mission à l'Institut Mémoires de l'Édition contemporaine (IMEC), où elle recherche des archives pour les publications et expositions. In 2011, sous l'enseigne de l'IMEC elle était à l'Hôtel de Ville de Paris la commissaire d'une exposition à propos des "Archives littéraires sous l'Occupation" (catalogue aux éditions Taillandier). Of 5 to 8 th 2017, elle programme la troisième édition des "Rencontres littéraires de Port-Cros".
Claire Paulhan s'entretiendra avec Alain Paire de la manière dont elle conçoit le travail d'éditrice, de la littérature autobiographique qui l'intéresse si fort et de quelques autres sujets liés à la lecture de manuscrits et la mise au jour de textes inédits.
— Alain Paire
Le site des Éditions Claire Paulhan