"scientific representation of homo europeanus".
The formula of Saint-John Perse. It is found in a tribute to Denis de Rougemont (1906-1995) the head of the book Denis de Rougemont : writer, European, published on the occasion of the 70th anniversary of his birth, in 1976 then, also does not he included in the Complete Works the poet-diplomat. This is apparently the last text that came out of his pen. Under this tribute : Denis de Rougemont Western.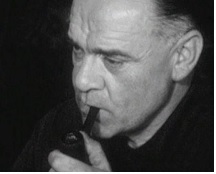 Denis de Rougemont is considered one of the great pioneers thinkers the idea of ​​establishing, not only "a sort of federal link", but a European federalism and the leading representatives of integral federalism.
Alexis Leger and Denis de Rougemont does not seem to have met before 1942, à Washington, then in New York for the event in memory of the organized Briand 28 March by their mutual friend, Coudenhove Kalergi. The first of the letters they exchanged, preserved by Saint-John Perse Foundation, data go 12 janvier 1942, last July 1975, be very few days before the poet's death.
Rougemont had arrived in the United States in late August 1940, a little over a month after Alexis Leger and settled near New York in October of the same year. A very controversial article in the Gazette de Lausanne ("At that time when Paris…."), following protests and pressure from the German Government, earned him the wrath of the Swiss Government. Sentenced for insulting a foreign head of state to fifteen days in military prison, he manages to be sent to the United States on the pretext of giving lectures on Switzerland.
In his memoir, Journal of Two Worlds, published in 1946 (reprinted in 1948 Gallimard, Saint-John Perse had this issue in his library), Denis de Rougemont evokes Alexis Leger speech delivered on Briand 1942 New York, "pronounced without looking at his notes", listened to him with rapt by emotion and it recognizes "great musical prose that is not unworthy of the poet'Exile et d'Anabasis".
The passage is quoted in Honor of Saint-John Perse (1964) but was not included in the volume of the Pleiades.