Ninon Anger,,en,To the elements of the world,,fr,What spoke to me in the work of St. John Perse,,fr,it's really a resonance about the elements,,fr,subjects I worked in different ways,,fr,on different media,,fr,papers,,fr,adapted to these elements,,fr,Cigarette paper collages,,fr,to say the air,,fr,the air we breathe,,fr,rather light in motion,,fr,Collage of cement bag paper giving a texture-skin to say bark of trees,,fr,Papers covered with ashes,,fr,burnt wood,,fr,charcoal,,fr,Tinted,,fr,from light gray to dark,,fr,also covered with grains and residues giving a granular texture,,fr,Crumpled paper to tell the entanglement,,fr,the fabric,,fr,an insect wing,,fr
Aux éléments du monde
Of 23 March till 16 June 2018
Vernissage de l'exposition vendredi 23 mars à 18h30.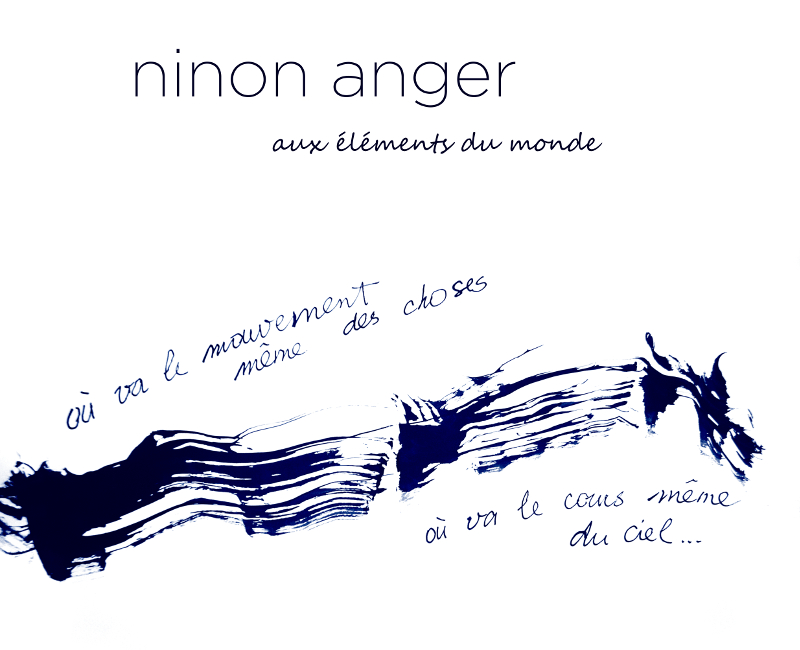 « Ce qui m'a parlé dans l'œuvre de Saint-John Perse, c'est vraiment une résonance au sujet des éléments, sujets que j'ai travaillés de différentes façons, sur différents supports, des papiers, adaptés à ces éléments.

Collages de papier cigarette, pour dire l'air, l'air qu'on respire, plutôt léger en mouvement.
Collages de papier de sac de ciment donnant une texture-peau pour dire l'écorce des arbres.
Papiers couverts de cendres (bois brûlé, fusain) teintées, du gris clair au plus foncé, couverts aussi de grains et résidus donnant une texture granuleuse.
Papier froissé pour dire l'enchevêtrement, le tissu, une aile d'insecte, the veins of a tree leaf,,fr,On transparent and light cellophane,,fr,a certain representation of our planet,,fr,link with the elements,,fr,Fire,,fr,black smoke,,fr,collected on folded paper,,fr,The vital water that is challenge to the world,,fr,Air still,,fr,bird movement,,fr,feathered beards dipped in ink,,fr,– Ninon Anger,,en,Ninon Anger likes to observe,,fr,crunch on the fly or transpose,,fr,then explore in the workshop from,,fr,elements of nature,,fr,brush,,fr,caress,,fr,suggest and sometimes show pain,,fr,a revolt before a sacrificed nature,,fr,Ninon Anger's website,,fr,Ninon Anger To the elements of the world,,fr.
Sur la cellophane transparente et légère, une certaine représentation de notre planète, lien avec les éléments.
Le feu, noir de fumée, capté sur papier plié.
L'eau vitale qui est défi au monde.
L'air encore, mouvement de l'oiseau, barbes de plume trempées dans l'encre. »
– Ninon Anger
Ninon Anger aime observer, croquer sur le vif ou transposer, explorer ensuite dans l'atelier à partir d' éléments de la nature.
Effleurer, caresser, suggérer et manifester parfois une douleur, une révolte devant une nature sacrifiée.