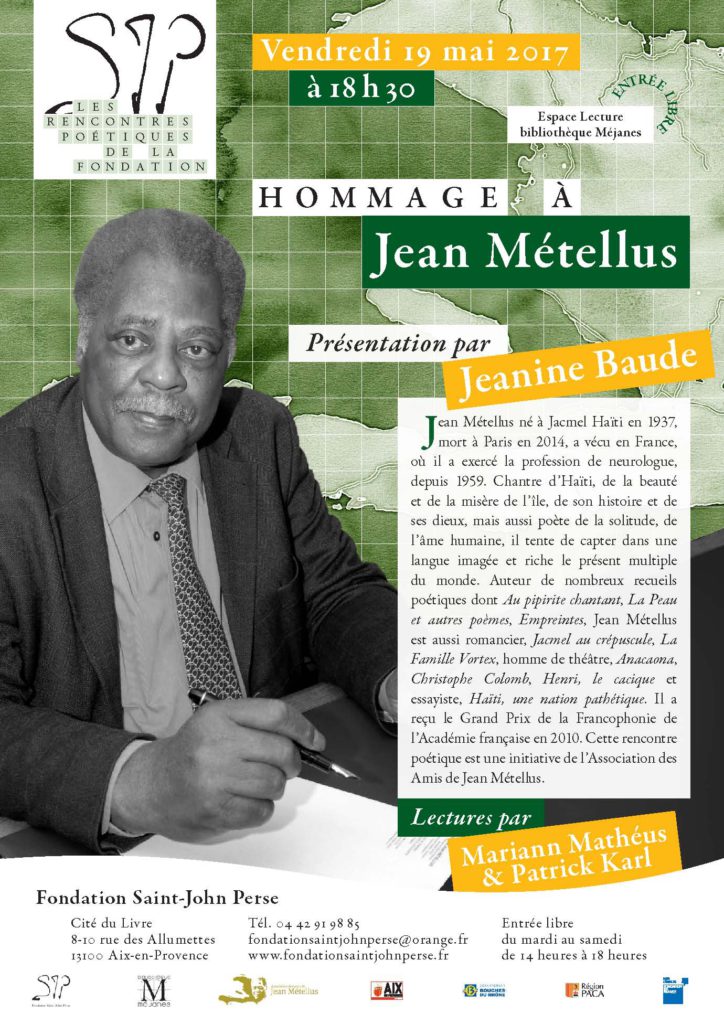 Présentation de Jean Métellus par Jeanine Baude
Lectures par Mariann Mathéus et Patrick Karl
Jean Métellus né à Jacmel (Haiti) in 1937, mort à Paris en 2014, a vécu en France où il a exercé la profession de neurologue, from 1959. Chantre d'Haïti, de la beauté et de la misère de l'île, de son histoire et de ses dieux, mais aussi poète de la solitude, de l'âme humaine, il tente de capter dans une langue imagée et riche le présent multiple du monde. Auteur de nombreux recueils poétiques dont Au pipirite chantant, La Peau et autres poèmes, Empreintes, Jean Métellus est aussi romancier, Jacmel au crépuscule, La Famille Vortex, homme de théâtre, Anacaona, Christophe Colomb, Henry, le cacique et essayiste, Haiti, une nation pathétique. Il a reçu le Grand Prix de la Francophonie de l'Académie Française en 2010.
Cette rencontre poétique est une initiative de l'Association of Friends of Jean Metellus.