Poetic encounter around Louis and Brauquier
Saint-John Perse
Friday 24 mai, at 19h, Adult aerea of Bibliothèque Méjanes
Dialogue between Gilles Bourdy and Alain Paire about Louis Brauquier (1900 – 1976), painter and poet, and Saint-John Perse.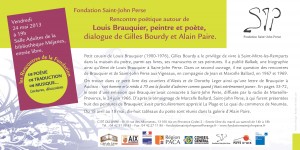 Click on the image to enlarge it
The Foundation retains many letters of Louis Brauquier to Saint-John Perse (between 1969 and 1974, see the catalog)
"Night life in Vigneaux : Saint-John Perse and Louis Brauquier"
(presentation of correspondence by Alain Paire)
among other articles on L. Brauquier and exposure during the
Galerie Alain Paire, Aix-en-Provence
Gilles Bourdy just republished Envoi of Louis Brauquier to Saint-John Perse
1st and 2nd edition
Presentation
Louis Brauquier, crowned the Grand Prize of the French Academy of poetry 1971, met Saint-John Perse and became his friend in the twilight of their lives. The book includes the full transcript of the radio show devoted to Perse by Brauquier 24 June 1966.
Article of Alain Paire about Louis Brauquier on the website Poezibao