André du Bouchet and,,fr,Pierre Tal Coat,,en,The painting language,,fr,André du Bouchet and Pierre Tal Coat,,fr,is part of a set of exposures in Cologne,,fr,Münich,,en,Coutances,,en,Kerguéhennec,,hu,Royan,,en,Uzes and Aix-en-Provence,,fr,Saint-John Perse Foundation, Granet Museum,,fr,April,,fr,to March,,fr,highlight different aspects each time the work of Pierre Tal Coat,,fr,During this "Year Tal Coat",,fr,meetings and symposiums,,fr,to Kerguéhennec and Cerisy-la-Salle,,fr,succeed as well as new publications and editions,,fr,Among the poets of the twentieth century,,fr,is a,,fr,inventor,,fr,a creator of forms such as Stéphane Mallarmé was in the previous century,,fr,On the page,,fr,between the words of André du Bouchet,,fr,space,,fr
Pierre Tal Coat
La langue peinture
Of 17 November 2017 to 11 March 2018.
Vernissage vendredi 17 novembre à 18h30.
The Exhibit André du Bouchet et Pierre Tal Coat : La langue peinture s'inscrit dans un ensemble d'expositions à Cologne, Münich, Coutances, Paris, Kerguéhennec, Royan, Uzès et Aix-en-Provence (Fondation Saint-John Perse et Musée Granet) that, d'avril 2017 à mars 2018, mettent en lumière des aspects chaque fois différents de l'œuvre de Pierre Tal Coat. Pendant cette « Année Tal Coat », rencontres et colloques (à Kerguéhennec et à Cerisy-la-Salle) se succèdent ainsi que les publications nouvelles et rééditions.
* * *
Parmi les poètes du XXe siècle, André du Bouchet (1924-2001) est un inventeur, un créateur de formes comme le fut Stéphane Mallarmé au siècle précédent.
Sur la page, entre les mots d'André du Bouchet, l'espace plays an essential role,,fr,blanc,,en,air,,en,are breathing poems and sometimes it takes great strides to move from one fragment to another,,fr,It is in this dynamic that will create the sense of reports,,fr,dialogue with the poet things seen and interlocutors,,fr,The arrangement of words on the page is not a plastic arrangement,,fr,decorative or purely intellectual inquiry,,fr,The attention of the poet in his books material space is only accompany a sensation recorded on the spot in a notebook,,fr,regain his freshness events that speech will have crossed,,fr,Because Andre du Bouchet knows typography,,fr. The blanc, l'air font respirer les poèmes et il faut parfois de grandes enjambées pour passer d'un fragment à l'autre. C'est dans cette dynamique que se créent les rapports de sens, le dialogue du poète avec les choses vues et les interlocuteurs rencontrés.
La disposition des mots dans la page n'est pas un arrangement plastique, une recherche décorative ou purement intellectuelle. L'attention du poète à l'espace matériel de ses livres ne vise qu'à accompagner une sensation notée sur le vif dans un carnet, à retrouver dans sa fraîcheur un événement que la parole aura traversé. Parce qu'André du Bouchet connaît la typographie, it can get out of his forced alignments,,fr,go in the margins,,fr,a torrent is freer a channel,,fr,It can move the banks,,fr,The intermissions are life signs,,fr,It is natural that the poet is facing the space of the painting and the painting has inspired many of his texts,,fr,The friendship with great artists led him to share with them,,fr,including Alberto Giacometti,,fr,Pierre Tal Coat et Bram van Velde,,af,the "factory" of "picture books" that have marked the art and history of these books in France in the second half of the twentieth century,,fr,Thus the three main books of André du Bouchet and Pierre Tal Coat,,fr,On the not,,fr,Maeght editor,,fr,Leashes,,fr, aller dans les marges, un torrent est plus libre qu'un canal. Il peut déplacer les rives. Les intermittences sont les signes du vivant.
Il est naturel que le poète se soit tourné vers l'espace de la peinture et que la peinture ait inspiré nombre de ses textes. L'amitié avec de grands artistes l'a conduit à partager avec eux (notamment Alberto Giacometti, Pierre Tal Coat et Bram van Velde) la « fabrique » de « livres illustrés » qui ont marqué l'art et l'histoire de ces livres en France dans la seconde moitié du XXe siècle. Ainsi les trois principaux livres d'André du Bouchet et de Pierre Tal Coat, Sur le pas (Maeght éditeur), Laisses and Under the lintel-shaped yoke,,fr,these two books edited by Françoise Simecek,,fr,André du Bouchet had met Pierre Tal Coat in,,fr,when the painter lived Black Castle,,fr,in the hills of Aix-en-Provence,,fr,Until the death of his friend,,fr,dead in,,fr,but also to its own demise,,fr,André du Bouchet has continued to question the singular adventure of "this great painter",,fr,Both have forged,,fr,and with the philosopher Henri Maldiney,,fr,thinking and common experience of painting and poetry,,fr,To the extent that,,fr,André du Bouchet,,fr,these words ended up merging - as Tal Coat space and hers,,fr,the same words of the poet,,fr (ces deux livres édités par Françoise Simecek).
André du Bouchet avait rencontré Pierre Tal Coat en 1948, lorsque le peintre habitait Château Noir, dans les collines d'Aix-en-Provence. Jusqu'à la disparition de son ami (born in 1905, mort en 1985) mais aussi jusqu'à sa propre disparition, André du Bouchet n'a cessé de s'interroger sur l'aventure singulière de « ce si grand peintre ». Tous deux ont forgé (et avec le philosophe Henri Maldiney) une pensée et une expérience communes de la peinture et de la poésie. À tel point que, pour André du Bouchet, ces mots finissaient par se confondre – comme l'espace de Tal Coat et le sien, aux dires mêmes du poète. A "painting language",,fr,Recall that Andre du Bouchet affixed its pages,,fr,typewritten,,fr,the walls of the room where he worked,,fr,Paris or Truinas,,fr,Drôme,,fr,it was virtually a workshop,,fr,as a matter of fact,,fr,a vast construction site,,fr,"I am a painter,,fr,"He said, smiling at his relatives,,fr,In his immense workshop Dormont,,fr,near Giverny,,fr,Tal Coat sought to find an organic agreement between painting and nature,,fr,between the material of his painting and the surrounding world,,fr,hundreds of paintings were living there,,fr,waiting,,fr,This extreme attention,,fr,Tal Coat wore in his prints and his books,,fr,His collaboration with the Saint-Prex Workshop,,fr,French-speaking Switzerland,,fr,allowed him to multiply tests,,fr.
Rappelons qu'André du Bouchet apposait ses pages (dactylographiées) aux murs de la pièce où il travaillait, à Paris ou à Truinas, dans la Drôme : il avait pour ainsi dire un atelier. And, à vrai dire, un vaste chantier.
« Je suis peintre ! » disait-il en souriant à ses proches…
Dans son immense atelier de Dormont (non loin de Giverny), Tal Coat cherchait à retrouver un accord organique entre la peinture et la nature, entre le matériau de sa peinture et le monde environnant : des centaines de tableaux vivaient là, en attente…
Cette attention extrême, Tal Coat la portait à ses gravures et à ses livres. Sa collaboration avec l'Atelier de Saint-Prex, en Suisse romande, lui permettait de multiplier les essais, correcting the state of an engraving,,fr,even after giving the "OK to print",,fr,You could say the "end state" only when printing was brought to completion,,fr,Thus the book,,fr,Françoise Simecek editor,,fr,grants poems among the most beautiful of André du Bouchet and colored aquatint by Tal Coat,,fr,In this masterpiece,,fr,the junction between typography and aquatints is done first by a find,,fr,the presence of woodcuts that secure the typography in the space of the double page,,fr,With wood energy as a rock,,fr,- Jean-Pascal Léger,,fr,November in Aix-en-Provence,,fr,To Celebrate poetry,,fr, encore après en avoir donné le « Bon à tirer ». On pouvait dire « l'état final » seulement quand l'impression était menée à son terme…
C'est ainsi que le livre Laisses (Françoise Simecek éditeur, Lausanne, 1978) accorde des poèmes parmi les plus beaux d'André du Bouchet et des aquatintes colorées de Tal Coat. Dans ce chef d'œuvre, la jonction entre typographie et aquatintes se fait d'abord par une trouvaille : la présence de bois gravés qui arriment la typographie dans l'espace de la double page. Avec l'énergie du bois comme de la pierre.
– Jean-Pascal Léger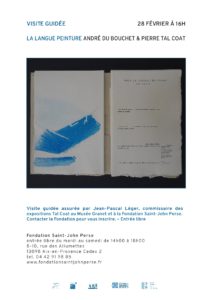 * * *
> The 25 novembre à Aix-en-Provence, in contact with the demonstrations of Pour Fêter la poésie, event organized by the Saint-John Perse Foundation and Crossed Scriptures,,fr,a roundtable in honor of André du Bouchet,,fr,gather Anne de Stael,,fr,Daniel Dobbels,,da,Jean-Pascal and Alain Léger Pair,,fr,the Granet Museum,,fr,André du Bouchet and Pierre Tal Coat Paint language,,fr, une table ronde en hommage à André du Bouchet, rassemblera Anne de Staël, Daniel Dobbels, Jean-Pascal Léger et Alain Paire.
> Exhibit Tal Coat – La liberté farouche de peindre au Musée Granet du 18 November 2017 to 11 March 2018.