Editions La Dogana
celebrating poetry
Saturday 22 November 16 . 30, To celebrate poetry, en partnership with Crossed Scriptures, Foundation receives editions La Dogana, avec Michel Orcel, Florian Rodari et Frédéric Wandelère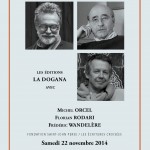 During this meeting Michel Orcel and Frédéric Wandelère talk, in the company of the publisher Florian Rodari and Alain Pair, their experience of translators and poets who wrote about the music : the first by devoting a groundbreaking study on Giuseppe Verdi, the second focusing lovingly in the work of Hugo Wolf. Will be discussed at this particular occasion the collection "Aloud" La Dogana five recent titles illustrate the art of German Lieder, both prestigious recordings by writers assigned to specialists or comments.
at 18 . 30, Opening of the Exhibit
Publishing La Dogana, a speech given visa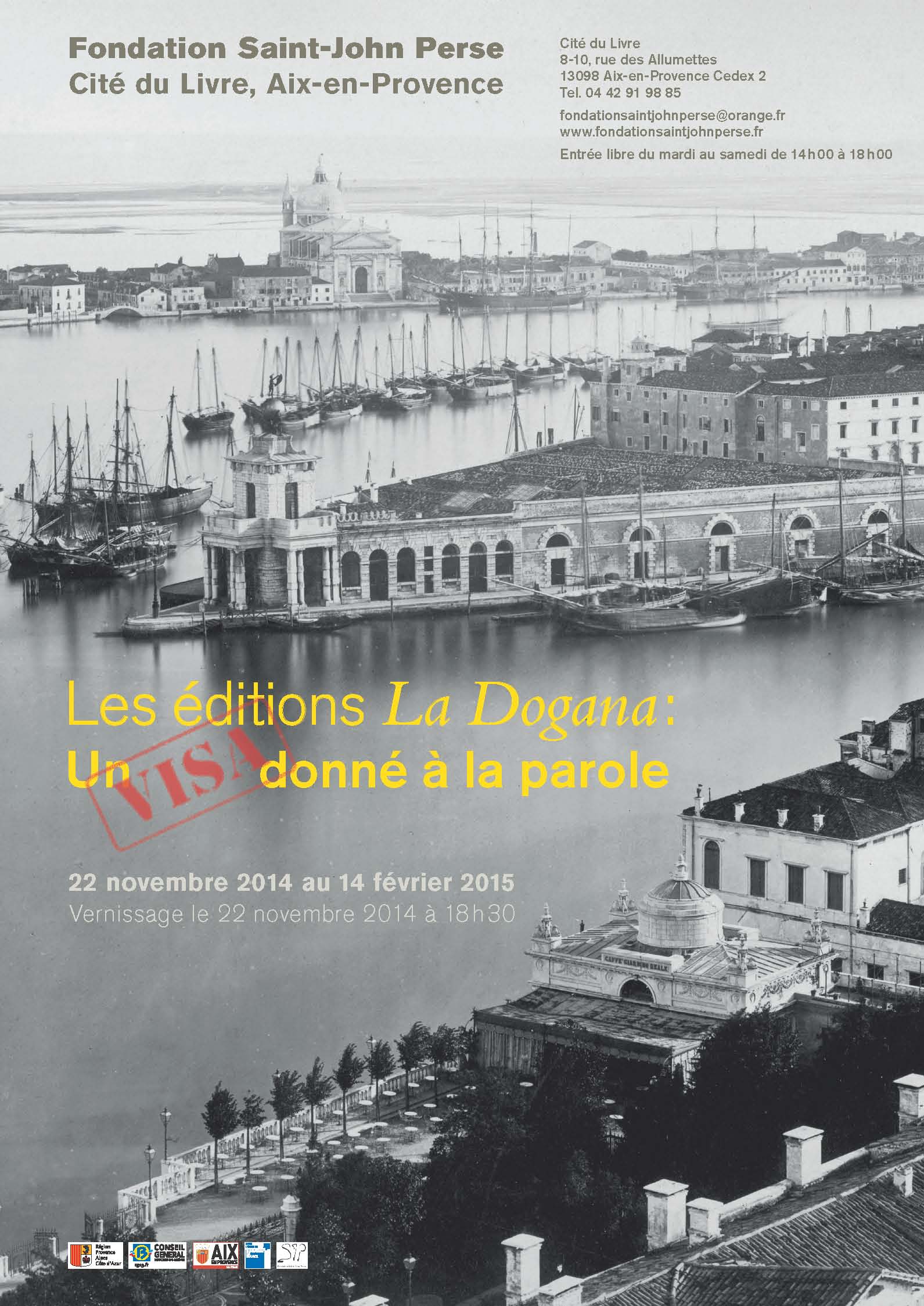 the exhibition will run until Saturday 14 February 2015
Publishing La Dogana were created in Geneva 1981 in order to raise awareness of all kinds of texts by interacting with poetry : books in French or foreign, cycles of poems, tests, remembrances, meditation and rhythmic prose and even songs sung, that match the sensitivity of the readers and friends who have come together to make this project viable.
More than a transit control, favorable to trade and literally grants visa to speech, La Hansen - la Douane, in Italian - is particularly keen awareness of the poets of Western Switzerland in France and other French-speaking countries, as it strives to disseminate the work of French poets who have not yet been heard within the Swiss borders. En outre, from a
The Dogana decade occasionally publishes books on artists, painters, artists or writers.
Exposure of Saint-John Perse Foundation will show, using manuscripts, letters, Test layout and blankets, carried by the publishers to the quality care of their publications. The chair rail in the room will still be hanging works of artists who illustrated some book titles or a monograph which was devoted.
The 7 June 2013, as part of its Poetry readings, Saint-John Perse Foundation received Florian Rodari, questioned by Pietro Santi and Alain Pair. Echoes of this event here.