Spring poets 2017
Afrique(
s

), la poésie comme conception du monde
This year the,,fr,famous African poetry,,fr,We will have the joy of receiving poets,,fr,various francophone voice,,fr,and we also wanted to open this,,fr,Spring,,fr,At the movie theater,,fr,in fiction as,,fr,when it comes to Africa,,fr,Poetry can not be limited to a kind,,fr,In the movies,,fr,in novels,,fr,poetry alongside the most increased realism with as much truth effects,,fr,Presence in the world,,fr,with the,,fr,Interdisciplinary Center for the Study of Literature of Aix-Marseille CIELAM,,fr,mars – 16h,,en,Letter Senghor,,fr,Samba Félix Ndiaye,,fr,Presented by Dominique Wallon,,fr,- Salle Armand Lunel,,fr,prices,,fr,euros,,en,Who was Léopold Sédar Senghor,,fr Spring poets célèbre les poésies africaines. Nous aurons le bonheur de recevoir des poètes, voix francophones diverses, et nous avons voulu ouvrir aussi ce Printemps au cinéma, à la littérature romanesque tant, quand il s'agit d'Afrique(s), la poésie ne peut être limitée à un genre. Dans les films, dans les romans, la poésie côtoie le réalisme le plus crû avec autant d'effets de vérité, de présence au monde.
Un partenariat de la Saint-John Perse Foundation, de l'Institut de l'image et des Crossed Scriptures avec le Festival des Cinémas d'Afrique du pays d'Apt, the Centre interdisciplinaire d'étude des littératures d'Aix-Marseille CIELAM et la Méjanes Library.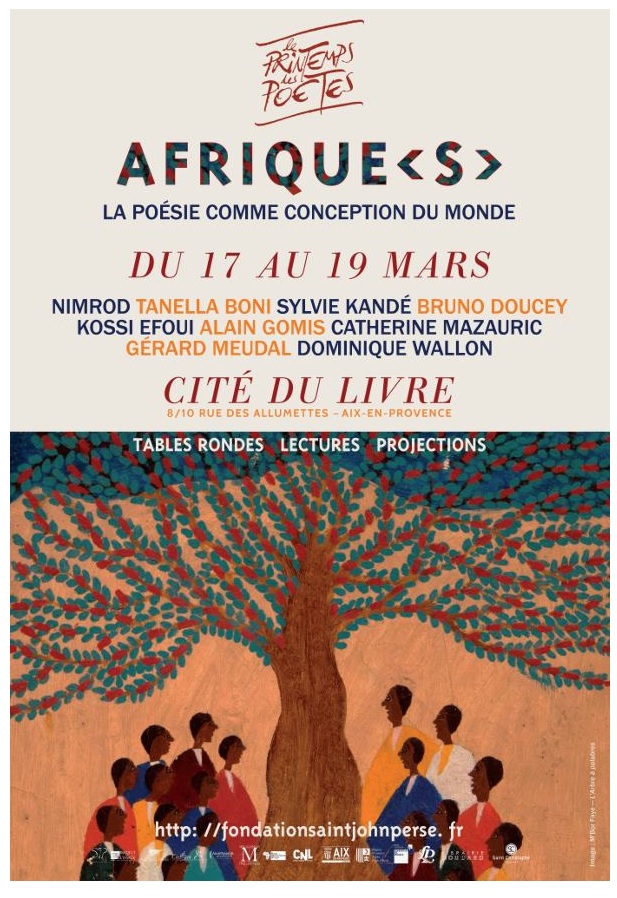 Friday 17 mars – 16h
Lettre à Senghor de Samba Félix Ndiaye
Présenté par Dominique Wallon
– Salle Armand Lunel, tarifs : 6/7 euros
Qui était Léopold Sédar Senghor? Because he haunted the young filmmaker,,fr,because he has made of negritude an affair of state,,fr,because he has always defended the French language,,fr,Senegalese leader and thinker gave Samba Félix Ndiaye desire to pierce its secrets,,fr,the director has awakened his memories and those of his relatives and he interviewed the inhabitants of the village where Léopold Sédar Senghor,,fr,Preceded by the short film,,fr,the Trunks,,fr,mars – 18h,,en,- Amphitheater Canopy,,fr,with Nimrod,,fr,Tanella Boni,,sl,Sylvie Kandé,,en,Bruno and Catherine Doucey Mazauric,,fr,What that "write French from the shores of its strangeness",,fr, parce qu'il a fait de la négritude une affaire d'État, parce qu'il a toujours défendu la langue française, le dirigeant et penseur sénégalais a donné à Samba Félix Ndiaye l'envie de percer ses secrets. For this, le réalisateur a réveillé ses souvenirs et ceux de ses proches et il a interviewé les habitants du village natal de Léopold Sédar Senghor. Précédé par le court-métrage Les Malles de Samba Félix Ndiaye
Friday 17 mars – 18h
Table round & lectures
– Amphithéâtre de la Verrière, Free entry
Avec Nimrod, Tanella Boni, Sylvie Kandé, Bruno Doucey et Catherine Mazauric.
Qu'est-ce qu'« écrire le français depuis les rivages de son étrangeté » ? This is what we will keep our guests,,fr,poets who are also philosophers,,fr,novelists,,fr,essayists and editors,,fr,mars – 19h30,,en,Pot of friendship,,fr,mars – 20h30,,en,Life on Earth,,fr,by Abderrahmane Sissako,,fr,Mauritanian filmmaker,,fr,who lives in France,,fr,returns to Sokolo,,fr,a small village in Mali,,fr,find his father,,fr,His wanderings in the streets are the beginning of a reflection on the ever peaceful relations between Africa and Europe,,fr,he met Nana and will forge a unique relationship with it,,fr,mars – 14h,,en,Yeelen,,en,Souleymane Cissé,,fr,In a mythological Africa,,fr,Nianankoro is hounded by his father,,fr,Soma,,en,a formidable magician,,fr,He wants his death without knowing why,,fr, des poètes qui sont aussi philosophes, romanciers, essayistes ou éditeurs.
Friday 17 mars – 19h30
Pot de l'amitié
Friday 17 mars – 20h30
La Vie sur terre de Abderrahmane Sissako
Présenté par Dominique Wallon
– Salle Armand Lunel, tarifs : 6/7 euros
Le cinéaste mauritanien, qui vit en France, retourne à Sokolo, un petit village du Mali, retrouver son père. Ses errances dans les ruelles sont le début d'une réflexion sur la relation jamais apaisée entre l'Afrique et l'Europe. In parallel, il rencontre Nana et nouera avec elle une relation singulière…
Saturday 18 mars – 14h
Yeelen de Souleymane Cissé
Présenté par Dominique Wallon
– Salle Armand Lunel, tarifs : 6/7 euros
Dans une Afrique mythologique, Nianankoro est traqué par son père, Soma, un redoutable magicien. Celui-ci veut sa mort sans que l'on sache pourquoi… What makes the strangeness and strength of the film,,fr,is its anchoring in the reality of the contemporary rural Mali,,fr,associated with a story set in a distant time,,fr,a mythical time,,fr,Are we in a fantastic tale,,fr,an epic,,fr,a family drama,,fr,a story of initiation,,fr,poetry narrated,,fr,images and voices,,fr,Alain Gomis,,fr,Kossi Efoui,,en,Sylvie and Gerard Kandé Meudal,,fr,"We will not always put into words things like we put locks on doors",,fr,a ride between cinema,,fr,fiction and poetry,,fr,mars – 18h30,,en,happiness,,fr,Alain Gomis,,fr,In preview,,fr,in the presence of Alain Gomis,,fr,free and proud,,fr,is a singer in the evening in a bar Kinshasa,,fr,His life changes when his son,,fr, c'est son ancrage dans la réalité du Mali rural contemporain, associé à un récit situé dans une époque lointaine, une époque mythique. Sommes-nous dans un conte fantastique, une épopée, un drame familial, un récit initiatique ?
Saturday 18 mars – 16h
Afrique(s) poetic(s) : la poésie racontée, images et voix
Table round & lectures
– Amphithéâtre de la Verrière, Free entry
Avec Alain Gomis, Kossi Efoui, Sylvie Kandé et Gérard Meudal.
« On ne va pas toujours mettre des mots sur des choses comme on met des cadenas aux portes », une ballade entre cinéma, roman et poésie.
Saturday 18 mars – 18h30
Félicité de Alain Gomis
En avant-première, en présence d'Alain Gomis
– Salle Armand Lunel, tarifs : 6/7 euros
Félicité, libre et fière, est chanteuse le soir dans un bar de Kinshasa. Sa vie bascule quand son fils de 14 years is the victim of a motorcycle accident,,fr,To save the,,fr,she embarks on a race through the streets of Kinshasa electric,,fr,A world of music and dreams,,fr,He crosses paths Tabu,,fr,Sunday,,fr,mars – 14h30,,en,Institute of Image,,fr,AFRICAPT,,en. Pour le sauver, elle se lance dans une course effrénée à travers les rues d'une Kinshasa électrique, un monde de musique et de rêves. Son chemin croise celui de Tabu…
Dimanche 19 mars – 14h30
La Vie sur terre de Abderrahmane Sissako
Salle Armand Lunel, tarifs : 6/7 euros
Dimanche 19 mars – 16h
Yeelen de Souleymane Cissé
Salle Armand Lunel, tarifs : 6/7 euros
Information :
Saint-John Perse Foundation - 1976 04 42 91 98 85
Institut de l'Image - 1976 04 42 26 81 82
CIELAM
AFRICAPT
Méjanes Library
Spring poets