Guillaume Apollinaire and,,fr,Madeleine Pagès,,fr,Investigation of,,fr,relation improbable,,en,Conference with Pierre Claude Debon Béziers,,fr,Auditorium Méjanes Library,,fr,Dialogue premiere of Claire Debon Pierre Beziers,,fr,which will be given the,,fr,in the glass in the amphitheater,,fr,and tells the story so badly known Guillaume Apollinaire loves and Madeleine Pagès,,fr,Will be highlighted some paradoxes and dispelled some shadows,,fr,The meeting the,,fr,on the platform of the station in Nice,,fr,in the presence of the famous Lou,,fr,A match which engages only a few months later,,fr,The burning up a shared desire,,fr,only verbal,,fr,Engagement in August,,fr,Background,,fr,the trenches,,fr
Madeleine Pagès
Enquête sur une
relation improbable
La conférence est reportée à une date ultérieure
Conférence de Claude Debon avec Pierre Béziers
Wednesday 7 décembre à 18 . 30, Auditorium de la Bibliothèque Méjanes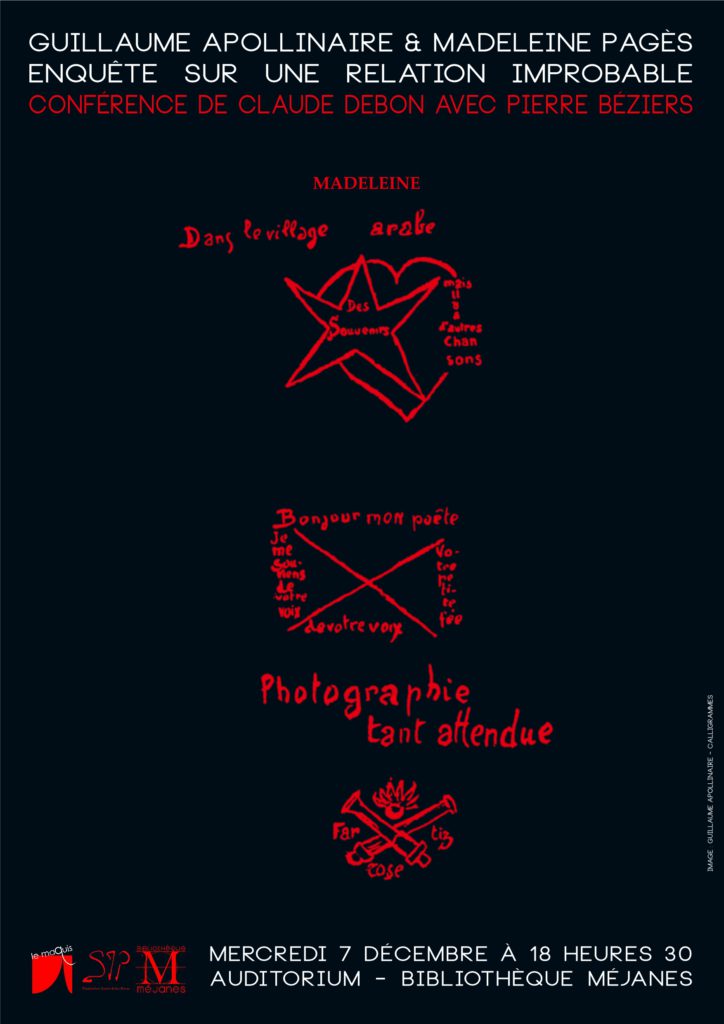 Dialogue en avant-première de Claire Debon avec Pierre Béziers, metteur en scène de la pièce Et l'acier s'envole aussi, qui sera donnée le 9 December 2016 dans l'Amphithéâtre de la Verrière à 20 . 30 et qui retrace l'histoire si mal connue des amours de Guillaume Apollinaire et de Madeleine Pagès.
Seront soulignés quelques paradoxes et quelques ombres dissipées :
La rencontre le 2 janvier 1915, sur le quai de la gare à Nice, en présence de la fameuse Lou !
Une correspondance qui ne s'engage que quelques mois plus tard
La montée brûlante d'un désir partagé, uniquement verbal
Des fiançailles en août !
En arrière-plan, la guerre, les tranchées, hell,,fr,A second meeting for Christmas and year Lamur near Oran,,fr,And then ... nothing,,fr,or almost,,fr,Why,,fr,unfinished Symphony,,fr,drama romance,,fr,barely avoided tragedy ... Yet,,fr,Calligrammes,,en,would not,,fr,without Madeleine,,fr,And the French love literature would not have been what it is without,,fr,Tender as remembrance,,fr,Claude Debon is Professor Emeritus at the University of Paris III-Sorbonne Nouvelle,,fr,A former student of the ENS,,fr,she argued in,,fr,his thesis,,fr,Apollinaire,,fr,After writing many articles about this author,,fr,she has devoted several books including,,fr,Claude Debon comments "Calligrammes",,fr
Une seconde rencontre pour les fêtes de fin d'année à Lamur près d'Oran
Et puis… plus rien, ou presque.
Pourquoi ?
Symphonie inachevée, idylle dramatique, tragédie à peine évitée… Pourtant, Calligrammes ne serait pas Calligrammes sans Madeleine. Et la littérature amoureuse française n'aurait pas été ce qu'elle est sans Tendre comme le souvenir.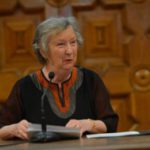 Claude Debon est professeure émérite à l'Université de Paris III-Sorbonne Nouvelle. Ancienne élève de l'ENS, elle a soutenu en 1978 sa thèse intitulée Apollinaire de 1914 at 1918. Après avoir écrit de nombreux articles sur cet auteur, elle lui a consacré plusieurs ouvrages dont Claude Debon commente « Calligrammes » (Foliothèque, Gallimard, 2004). She has collaborated in several collective works on the poet,,fr,among which,,fr,Michel Décaudin,,fr,Apollinaire between pen and brush,,fr,Stavelot,,en,She published,,fr,collection "French Letters",,fr,She was a guest on France-Culture,,fr,for the,,fr,years,,fr,We owe him,,fr,otherwise,,fr,the first volume of,,fr,Raymond Queneau in the Library of the Pleiades,,fr,Pierre Beziers,,fr,Mining Engineer,,fr,spent a dozen years in the industry before devoting himself entirely to the theater,,fr,He founded in Aix-en-Provence,,fr,a drama company,,fr,The Théâtre du Maquis,,fr,with actress Florence Hautier,,fr,representations of their rooms were given,,fr,sometimes on big stages,,fr, parmi lesquels, avec Michel Décaudin, Apollinaire entre plume et pinceau (Stavelot, 2003). Elle a édité Alcools and Calligrammes (collection « Lettres françaises », National Printing, 1991). Elle a été l'invitée de France-Culture en 2013 pour les 100 ans d'Alcools.
On lui doit, par ailleurs, le premier volume des Complete Works de Raymond Queneau dans la Bibliothèque de la Pléiade (1989).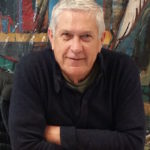 Pierre Béziers, ingénieur des Mines, a passé une douzaine d'années dans l'industrie avant de se consacrer entièrement au théâtre. Il a fondé à Aix-en-Provence, in 1982, une compagnie dramatique, Le Théâtre du Maquis, avec la comédienne Florence Hautier. Over 2 000 représentations de leurs pièces ont été données, parfois sur de grandes scènes, in France and abroad,,fr,Pierre Beziers wrote himself several rooms,,fr,adapted literary works,,fr,and signed more than thirty productions,,fr,of which the last two are related to Guillaume Apollinaire,,fr,For this last work,,fr,Apollinaire drawn from correspondence and Madeleine Pagès,,fr,it comes with Florence Hautier a proper investigation which strongly influenced the project,,fr,This conference is part of the event,,fr,Apollinaire,,en,organized by the Maquis Theater in partnership with the Saint-John Perse Foundation,,fr,Apollinaire in the Archives of the cultural program of Saint-John Perse Foundation,,fr.
Pierre Béziers a écrit lui-même plusieurs pièces, adapté des œuvres littéraires, et signé plus d'une trentaine de mises en scène, dont les deux dernières sont liées à Guillaume Apollinaire : Alcools in 2014, and Et l'acier s'envole aussi in 2016. Pour cette dernière œuvre, tirée des correspondances d'Apollinaire et de Madeleine Pagès, il s'est livré avec Florence Hautier à une véritable enquête qui a fortement influencé le projet.
Cette conférence s'inscrit dans la manifestation Apollinaire, Madeleine & la guerre. organisée par le Théâtre du Maquis en partenariat avec la Fondation Saint-John Perse.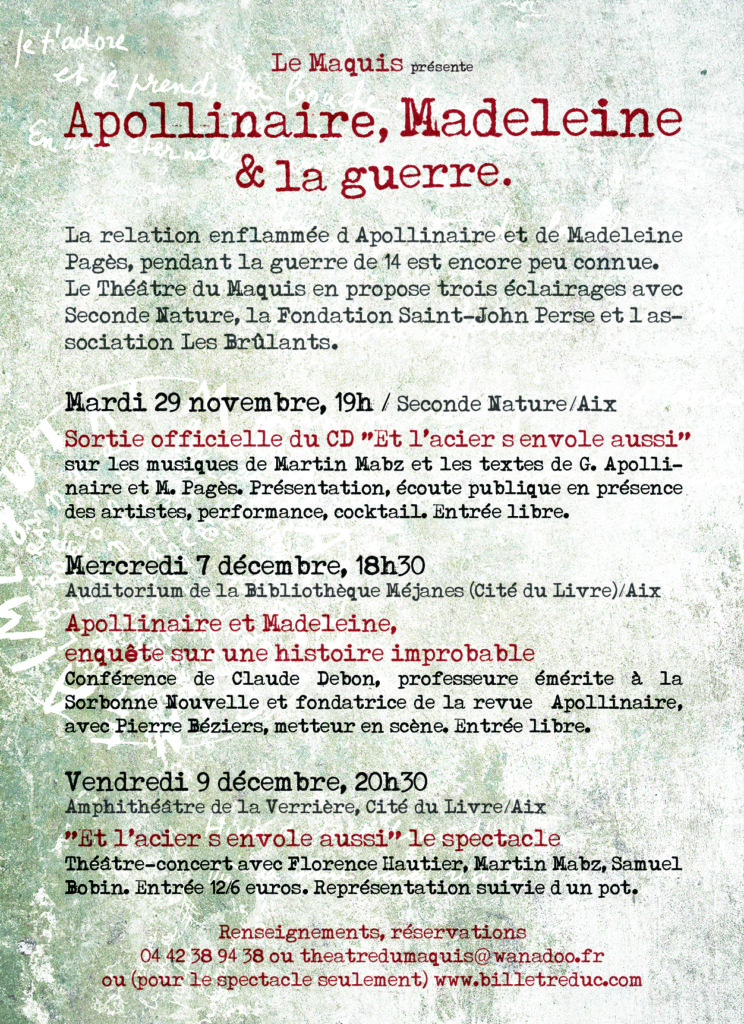 Apollinaire dans les Archives de la programmation culturelle de la Fondation Saint-John Perse :
Three poets face to Cubism :
Guillaume Apollinaire, Pierre Reverdy and Saint-John Perse
Christian conference Rivoire
(27 June 2009)
Apollinaire and the Mediterranean,
to celebrate the centenary ofAlcools
Exhibit
(from June 11 January to 23 March 2013)
Children of Guillaume Apollinaire and the Mediterranean,,fr,Guillaume Apollinaire and Madeleine Pagès Survey an unlikely relationship,,fr
table ronde, Exhibit, readings and performances, projections
under the Spring poets
(the 21 and 22 March 2014)