Monique Virelaude tribute to Gaston Bachelard,,fr,Published in the annual report of the International Association,,fr,Friends of Gaston Bachelard,,fr,It seems that the matter,,fr,plastic,,fr,has his being rest and be resistance,,fr,Our imagination is entirely to his task overrun,,fr,she wants to see the invisible,,fr,palpate the grain Substance,,fr,she goes to the bottom of things,,fr,as if it should be there,,fr,Rest imagine,,fr,The land and the dreaming of will,,fr,It is said that philosophy embraces the widest thought,,fr,If a philosopher,,fr,for me,,fr,answer this immensity,,fr,at the same poetry of life,,fr,it is Gaston Bachelard,,fr,Why dedicate a plastic art exhibition,,fr
Publié dans le bulletin annuel de l'Association internationale
des amis de Gaston Bachelard.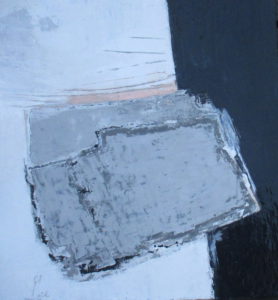 Il semble que la matière (plastique) ait son être de repos et son être de résistance… Notre imagination est tout entière à sa tâche de dépassement ; elle veut voir l'invisible, palper le grain des substances ; elle va au fond des choses, comme si elle devait trouver là, le repos d'imaginer.
La terre et les rêveries de la volonté
On dit que la philosophie embrasse la pensée la plus large. S'il est un philosophe qui, pour moi, réponde à cette immensité, à la poésie même de la vie, c'est bien Gaston Bachelard.
Pourquoi lui dédier une exposition d'Art plastique ? Because he knew about the fight that the material life in all its forms,,fr,we oppose,,fr,The plastic,,fr,as earthly matter,,fr,"Awakens in us joy muscle as soon as we take the taste of the work",,fr,On the same canvas,,fr,the form that will take the matter,,fr,its fluidity,,fr,resistance or inertia involved many physical fight,,fr,This "quarreled intimacy" will request an incisive,,fr,Yes,,fr,a real fight with the human world resistant,,fr,turn volatile world of gravity and which must be given meaning,,fr,When the balance reaches seems,,fr,between itself and the imaginary of the worked material,,fr,deaf so deep joy,,fr, nous oppose.
La matière plastique, comme la matière terrestre, « éveille en nous des joies musculaires dès que nous prenons le goût de les travailler ». Sur la toile même, la forme que va prendre la matière, sa fluidité, sa résistance ou son inertie participe bien d'un combat physique
Cette « intimité querellée » demande une volonté incisive. Oui, un vrai combat avec ce monde humain résistant, tour à tour monde de pesanteur et volatile auquel il faut donner sens.
Lorsque l'équilibre semble atteint, entre soi et l'imaginaire de la matière travaillée, sourd alors une joie profonde. She asked a deep physical participation to be,,fr,a total concentration on the unreal subject,,fr,therein,,fr,it touches a secret achievement that puts us a while,,fr,just a moment,,fr,in state of contemplation,,fr,As soon as a new form fairer,,fr,more lively,,fr,we called from deep,,fr,In an eternal,,fr,equally with our ancestors who worked the crude material that was wood or iron,,fr,the plastic worked imagination will shape,,fr,flay,,fr,break,,fr,the world of matter to give it shape,,fr,Gaston Bachelard wrote that "imagination removes husks to see lines of force,,fr, une concentration totale sur l'objet irréel; en cela, elle touche un accomplissement secret qui nous met un moment, juste un moment, en état de contemplation… A peine car une forme nouvelle plus juste, plus vivante, nous appelle du plus profond.
Dans un éternel recommencement, à l'égal de nos ancêtres qui travaillaient la matière brute que ce fût le bois ou le fer, l'imagination plastique travaillée va modeler, écorcher, casser, le monde de la matière pour lui donner forme, Gaston Bachelard a écrit que « l'imagination enlève les téguments pour voir les lignes de force, it restores the dynamic energy to life dream to intervene in the tough world ",,fr,We understand better and better therapeutic effects of Art,,fr,and his inner need,,fr,Bachelard's studies on the imagination of matter and dynamic imagination have inspired much work I lead on successive breath in my books,,fr,as well,,fr,The spiritual path of breath,,fr,what,,es,interior layouts,,fr,How to Overcome Fear,,fr. On comprend de mieux en mieux les effets thérapeutiques de l'Art, et sa nécessité intérieure.
——
Les études de Bachelard sur l'imagination de la matière et l'imagination dynamique ont beaucoup inspiré le travail que je mène sur le souffle dans mes livres successifs, aussi bien Le tracé spirituel du souffle que Tracés intérieurs or Comment vaincre la peur ?